ABOUT US
In the summer of 1978 Everybody's Records opened its doors to the music loving population of Cincinnati, Ohio. Located in Pleasant Ridge, Everybody's specialized in the buying, selling and trading of used records and cassette tapes.  Everybody's established a reputation as the best record store in the region, while maintaining independent ownership.
Everybody's built on their selection of new and used records, CDs, and cassettes by adding imports and collectibles to their lineup.  This solidified Everybody's reputation as the place to go for music enthusiasts and record collectors not only from Cincinnati, but from around globe.  Everybody's selection has grown to include rap, reggae, rock, jazz, soul, blues, punk, indie, hardcore, country, bluegrass and gospel music as well as a vast selection of local artists to choose from. We pride ourselves on our ability to please any music fan, regardless of their preferences.
Celebrating our 43th anniversary in the summer of 2021,  Everybody's Records is and will continue to be the best independent record store in Cincinnati! Here's to 40 more years!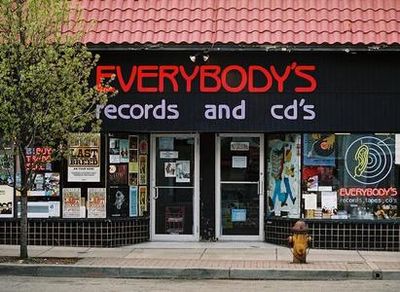 Copyright © 2020 Everybody's Records - All Rights Reserved.
We love our customers, so feel free to visit during normal business hours.
Everybody's Records
6106 Montgomery Road, Cincinnati, Ohio 45213
Hours
​
Mon

11:00 am – 07:00 pm

Tue

11:00 am – 07:00 pm

Wed

11:00 am – 07:00 pm

Thu

11:00 am – 07:00 pm

Fri

11:00 am – 07:00 pm

Sat

11:00 am – 07:00 pm

Sun

12:00 pm – 06:00 pm
THE CREW:

Woody
Michael
Harry
Heavy Metal Jason
Oliver
Andy